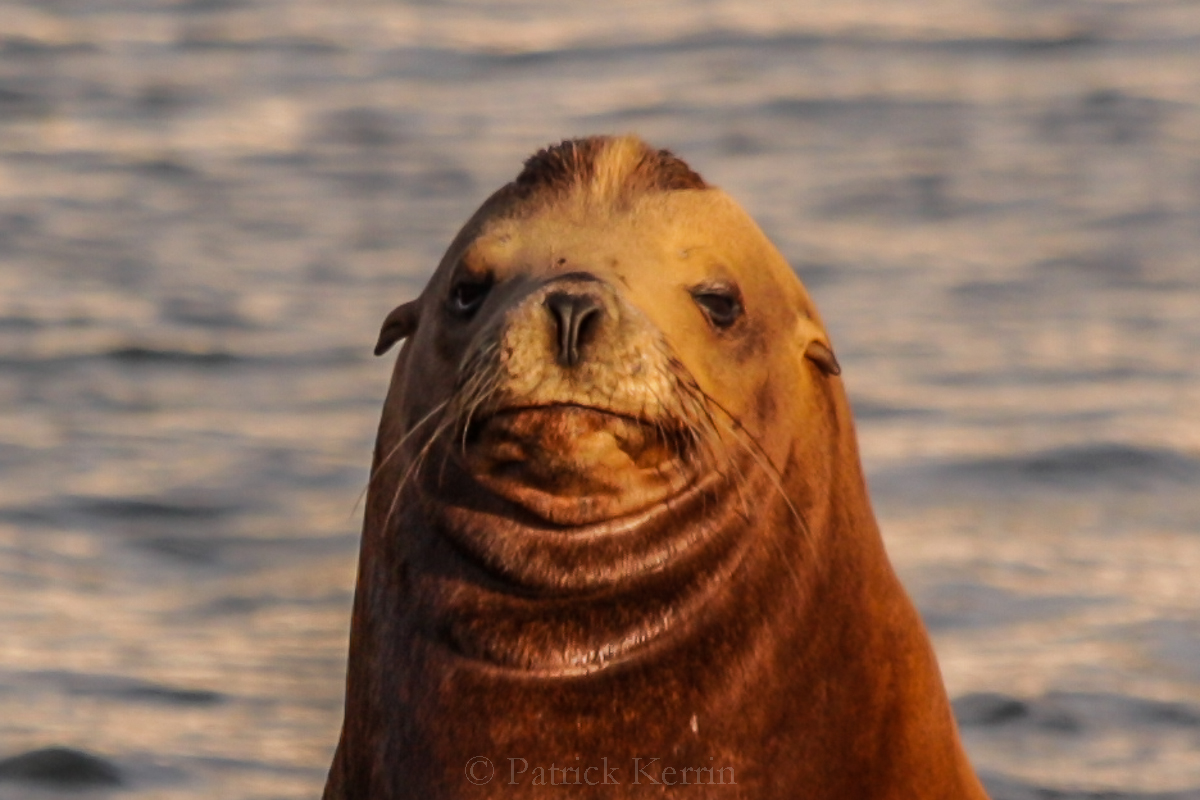 This takes things up to the sunset cruise.
Some shots on the taxi ride from the airport to the hotel (sort of a 'gonzo' approach to taking images, and you get a lot of duds, but I think it is fun and you can get some interesting shots). Had my eyes open for a couple of iconic stadiums.
Got the old Candlestick Park – I had no idea, but apparently it is in one of the few really bad areas in San Francisco:
and AT&T Park:
which we quickly ended up right beside!  Got this shot of of the statue of Hall-of-Famer Orlando Cepeda from the moving vehicle (suffers from some motion-blur but I was happy with the lucky composition I ended up with, and got createive in post):
Then got a cool perspective of the recently-closed-for-safety-issues (twice!) Bay Bridge (we got over it safely on our last day – but last week a 5000 lb chuck of metal fell on to the roadway!):
The morning cloudiness evident in these shots would only last until early afternoon.  We soon arrived at the Argonaut Hotel – a funky four-star boutique property in a an old converted warehouse:
Great Staff and service, all in a very nautical style  – here was our Bellman:
And they gave us a honeymoon upgrade to a small  suite! There was a wine tasting room on site:
which turned out to be more pricey than a lot of the ones we saw up in the Napa Valley  – that's what you get for being in a tourist zone!
The hotel also the Blue Mermaid – amazing Dungeness Clam Chowder:

The hotel was right on Fisherman's Wharf and had this street musician playing some really good solo instrumentals  – sort of in a Santana style with Brazilian influences (with his dog perched ever close):

Of course we saw streetcars:
And the Hard Rock Cafe:
Which is in the heart of the Wharf:

Very hectic tourist zone – with this dude laying down some sax in the midst of it all:
""
And we saw The Bushman!!!  I had read about him in a couple of places before the trip!  He was apparently a homeless person (there are a LOT in San Francisco and the ones on the Wharf are reputed to be quite aggressive).  Well, the Bushman turns out to be a 'Performance Artist' who struck me more as entrepreneur than vagrant (and he claims an annual income of 'over $60K' so he probably has a OK place).
Anyway, his gig is hiding behind some Eucalyptus branches:
and then attempting to scare tourists who wander close by yelling  "ooga-booga"!" 
and then attempting to scare tourists who wander close by yelling "ooga-booga"!"
When I first read about this I was annoyed by the concept – but he really is a hoot to watch (and he draws quite a crowd), and almost all the 'victims' get his good-matured intent!
Of course on the other side of the all this is the bay (with the Forbes Island Ferry and that Bridge from a previous blog entry):
and we were at Pier 39 to meet the Sunset Cruise.
Turns out that Pier 39 has also become home to a sizable (and smelly) herd of very noisy Sea Lions (who moved in just after the 1989 earthquake) – they put out rafts for the Sea lions to sunbathe (they also like to lie all over each other):
This was my favorite bunch: ""

especially with this guy overseeing them – sort of a cross between a Pixar character and Baltimore Colts legend Art Donovan!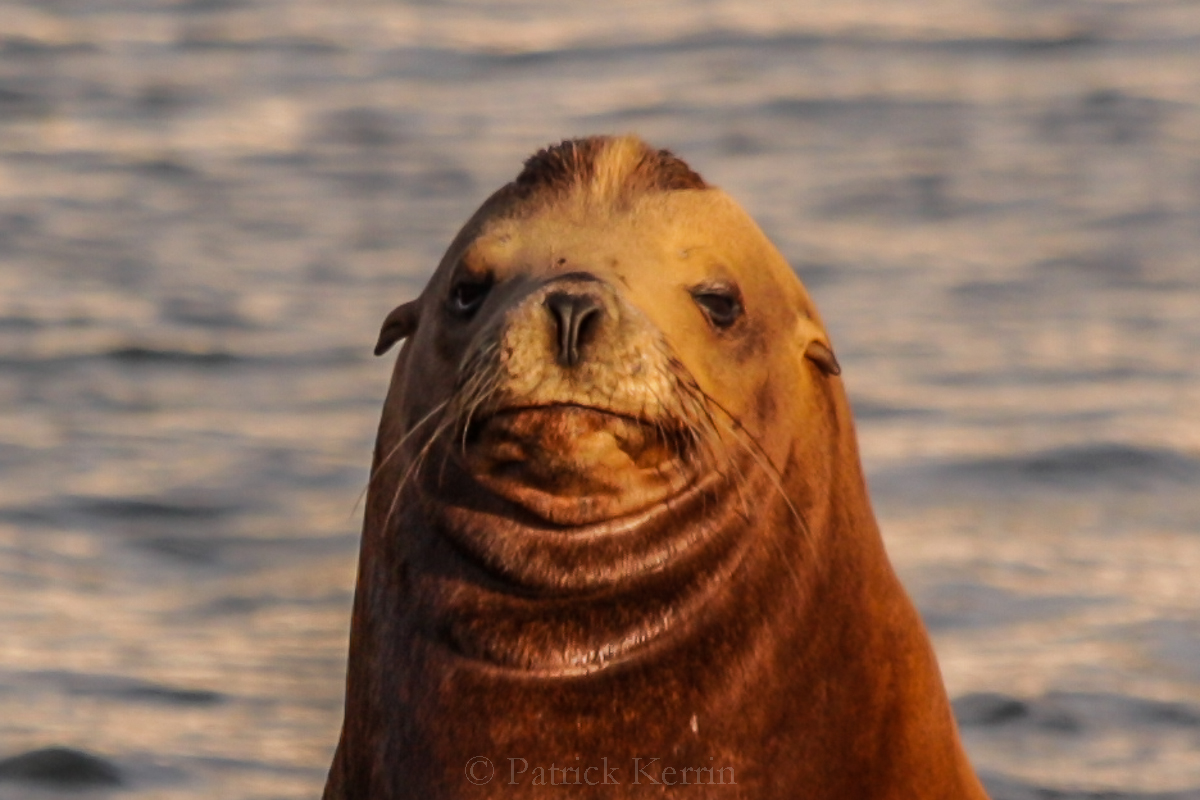 The Day tour is up next!
---